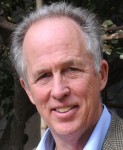 The final act of our journey is the Washington, D.C. Assembly where we invite our school community, families, and friends to hear the experiences of the returning students. This act of witnessing allows the community to understand and appreciate the growth each of the students has made as they talk to those assembled about what they learned on their journey. This is an important moment for both the community and the students. It is the, frequently neglected and yet very significant, "return" stage of the journey. Often there is emotion and pride, and even tears as parents witness their children and their classmates demonstrating new depth and capacity as they enter into a new stage of maturity,. When that happens both the students and the community that has supported them are validated. We all know that something important has occurred.
This year it was with great pleasure that I listened to the students talk about what transpired on their journey to Washington, D.C. I wish that each of you who took the time to speak with the students could hear how deeply you impacted these young men and women. In the assembly, the students gave voice to the values that you spoke and the generous actions you displayed. How grateful we all are that you gave us your time and your wisdom. The greatest teaching of all, is in your willingness to spend precious time with the students and to do so with such sincerity and kindness. It inspires and instructs in a deep way. Your kind and simple act of mentoring reunites the generations, and invigorates the possibility of a more caring community and committed citizenship. Thank you.
-Ward Mailliard
Program Leader
Values in World Thought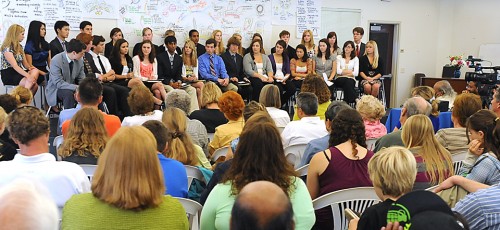 Student Reflections

I was surprised by every single person we interviewed in Washington D.C. Active participation in the government has never been my calling. When I went to Washington, I assumed the people wouldn't interest me because their jobs didn't. Politics seemed like a field in which concrete thinking was the only acceptable approach and abstract, philosophical thinking wouldn't propel the system forward.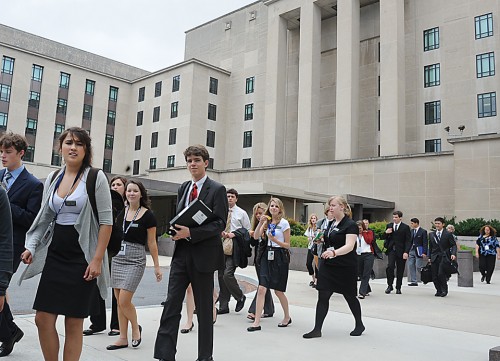 However, I was hugely mistaken. Not only were the people we met deep, philosophical thinkers, but they were able to articulate their thoughts and theories in a way that made them accessible to whomever they were speaking to. A perfect embodiment of this was Leonard McCarthy. His work in based on the philosophy of integrity and honesty. Measuring a nation's integrity based on its financial stability and dependency on corruption is less a mathematical equation than a philosophical one. Honesty and trust in itself is an abstract theory because it lies in the eyes of the individual. To hold a job like this, McCarthy must have a clear discerning eye to solve conflicts. Having and using your own morals and values as a compass to guide your work is a task many of us are not cut out to do. This makes him the more admirable to me.
-Anneka Lettunich
---

So I guess it all boils down to the art of thinking as an individual. The more we think for ourselves, the better our country gets, and the better we become as citizens. Being informed, forming our own opinions, and then standing up for our values is the only way anyone or anything moves forward. Talking to these people, who have created their own ideas and thoughts about themselves and the world, proved to me that that is the best way to live. It also showed me that our country's leaders are doing their best to stand up for us and to allow us to do the same thing they are. As Congressman Sam Farr said: "My job is to empower people so they can open their own doors." I definitely feel empowered.
-Susie Bryan