We are home now from India now, but the journey is by no means finished.
We have journals to write, interviews to do, presentations to make, a curriculum to finish and a movie still being filmed. Perhaps though it is ok to bask for a short minute in the afterglow of so many unforgettable moments strung together like prayer beads on the Tibetan malas we saw so often in Dharamsala. I know those memories that will continue to pass through our minds over and over in the days to come.
We will feel the texture of such special moments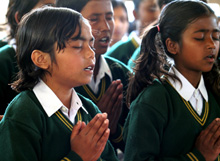 How can we forget the Harijan school children at Kingsway Camp in Delhi w ho surrounded us in the round domed temple where Ghandhi used to pray and sometimes rest. They, the poorest of the poor from what is called the scavenger cast enriched our lives immeasurably as they sang with folded palms sacred Sanskrit prayers for us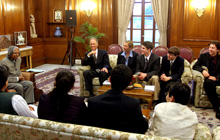 Or the excitement of sitting in the palatial Rastrya Pati Bhavan (President's House) and talking with the President of India Abdul Kalam, wondering how on earth we could be in such a place with this kind and dynamic teacher.
Or the gift of seeing instant friendships formed between the students of Mount Madonna School and Sri Ram Ashram, the children's home we sponsor in India; two branches of one family meeting for the first time. It was love at first sight.
Or the kindness and wisdom of Nirmala Deshpande as she recounted stories of the Gandhi era and brought forth the simple wisdom of someone who has dedicated her life to service, and the delight of her asking us to come visit her for tea after our trip to see the Dalai Lama.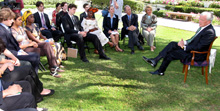 Or sitting in the lovely garden of the Ambassador's residence at the U.S. Embassy in New Delhi speaking to the dignified yet very personable Ambassador David Mulford who clearly understands the importance and challenges of the relationship between our two great democracies.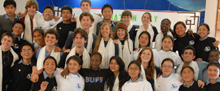 And how special it was after months of exchanged the emails we finally met and discovered the wonderful personalities and deep qualities of the students of the Tibetan Children's village who are part of this unique culture in exile. It was another case of love at first sight.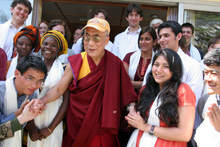 And of course, the grand finale, our meeting and conversation with His Holiness the Dalai Lama , and doing so with grace, humor, kindness, and compassion. His laugh, his warmth, his generosity of spirit – automatic teachings rising to the surface of a deep and ancient spiritual reservoir that is inspiring the world to more human and sustainable way of thinking.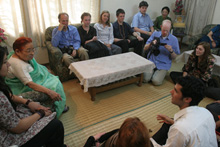 These memory beads and so many more strung on the energy of our group in constant motion: study sessions, interview preparations, endless writings for the blog, gift shopping for loved ones back home, bus rides, jeep rides, overnight trains, volleyball, performances, newspaper and television interviews, and friends, so many friends, helping serving, feeding, encouraging, caring just because we took the trouble to come.
And now we are home. We have much to do to respond to what we have been given. We have the opportunity and responsibility to put our deeds with our gratitude to demonstrate to everyone who aided our journey that we have done more that just traveled to a distant place and returned. We have stories to tell, promises to keep and a sacred journey that has just begun.
-Ward Mailliard