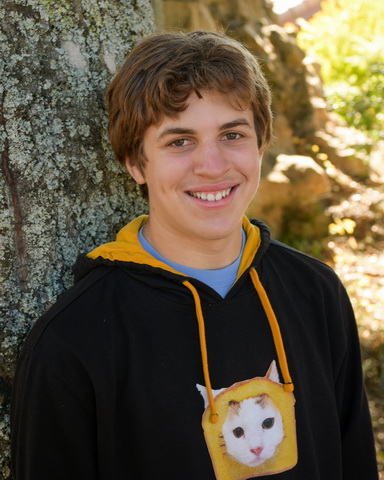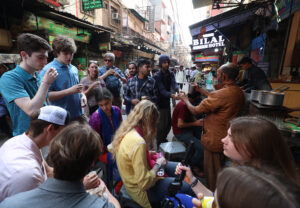 This morning a bus took us to Old Delhi, where we waited at the subway station for our guide. During the drive, it struck me as the most crowded place we had been to on the whole trip. The streets were packed with every kind of vehicle imaginable, many rickshaws, the occasional bus, and more motorcycles than could be counted. It also struck me how many people were just in the street, weaving through the traffic with little care for the chorus of honks from drivers they momentarily stopped. The electrical infrastructure was also fascinating. Each power pole was a rat's nest of power lines going every which direction. It was genuinely surprising to me that the power grid was still functioning and stores and houses were still receiving electricity.
After a little while, our guide arrived. He was part of the Salaam Baalak Trust and took us on a walk all over the city. First, we walked down a packed street just off the main road that took us into the maze of houses and stores. He told us how the system of begging works, and we saw food stalls with beggars sitting next to them. Then we walked back to the main road, and towards the main mosque of Delhi. We saw the inside and climbed up a tower within the mosque which had an amazing bird's eye view of the city. Then we walked through a big bazaar to get to one of the nine contact points that the Salaam Baalak Trust has established throughout the city, and met a group of children from the ages of two to thirteen. After some playing and a picture with the children, we headed to the last stop on our walk, a Jain Temple. The inside was beautiful and was covered in idols, sculptures, and paintings on crumbling plaster ceilings. After this, our city walk was over, and we headed off to lunch.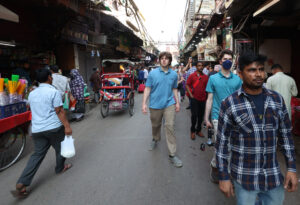 The Salaam Baalak Trust is an NGO specifically organized to support children all over India, the name directly translates to "Salute the Child." They have nine "contact points" all over Delhi, one of which we were able to visit during our walking tour. Their goal is to provide opportunities to neglected and abused street children, as well as raise awareness and sensitize people who may not know about the issue. Recently, they have also teamed up with the Central Queensland University in Australia to provide some of their students with higher education.
The system of begging really struck me as a product of the extreme population growth of Delhi. The idea is that large groups of beggars will all gather near food stalls, and wait for someone to pay for their food. The cook has a cheap option that more fortunate people can pay for to feed one of the beggars which positively affects their karma. This and the rapid integration of technology, exemplified by the unorthodox electrical grid and building construction, all make me view rapid population growth differently.
---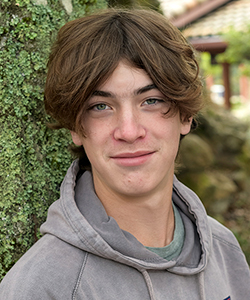 Today we took a long walking tour of Old Delhi which was a very interesting experience for a multitude of reasons. Our tour guides were part of an organization that works with street children, called Salaam Baalak Trust. Both of our tour guides had lived on the streets as children and had been rescued from the streets by the organization they now work for.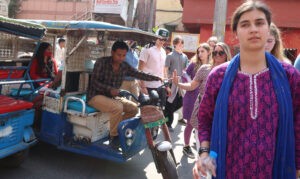 The crowding, poverty, and pollution were the main things I noticed because they were so extreme. The streets were filled with beggars who would follow us and tap our shoulders and put their hands out. Many of them had disabilities, lost limbs, or looked like they were starving. Many of them were children. Our tour guide told us that many children on the streets start using hard drugs around the age of nine, and most are using by fourteen. Wherever we went, there were people packed in around us, and there was a constant risk of pickpocketing or getting hit by one of the drivers who were driving through crowds of people and barely yielding to pedestrians. The shop owners were constantly beckoning at us to come look at their goods. Many of those who have an entrepreneurial spirit were selling the same goods as at least four other people within ten yards of them.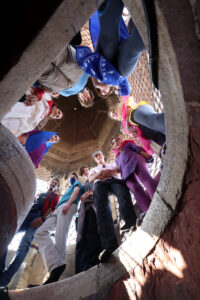 One part of Old Delhi that gave me some hope was the restaurants where for thirty rupees you can buy a decent meal for one of the nearby beggars. The reason this exists is mainly religious, and it works, because as our tour guide told us, money donated directly to the beggars might not be used in the best way.
After we spent some time walking through the narrow streets, we traveled to one of the largest mosques in India, Jama Masjid. The architecture inside was very impressive and the marble artwork was beautiful. After walking around inside for a bit, we decided to climb a massive tower which overlooked Old Delhi. The view from the top was strangely beautiful. Though it was mostly smoke, run down buildings, and overall desolation, it made me think about how large the world is and how many people don't get to just go home. It's very eye opening to see and to try and understand to some extent the struggle which defines so many people's lives.
Back in the streets of Old Delhi, we walked to an informal school run by the Salaam Baalak Trust. The organization has 9 centers located around Delhi, and the mission of these centers is to get children off the streets, off drugs, and to get them a decent education. When I got to meet some of these kids it was really inspiring to see them taking advantage of the small opportunity they have. It was also sweet to see how friendly and eager to meet us they were. At first, I thought we wouldn't have much to say to each other, but yet again I was proved wrong. During our brief time together we were able to connect through a variety of hand games, which I have come to realize are a sort of universal language. Old Delhi was a difficult place to see, but there were pockets of hope.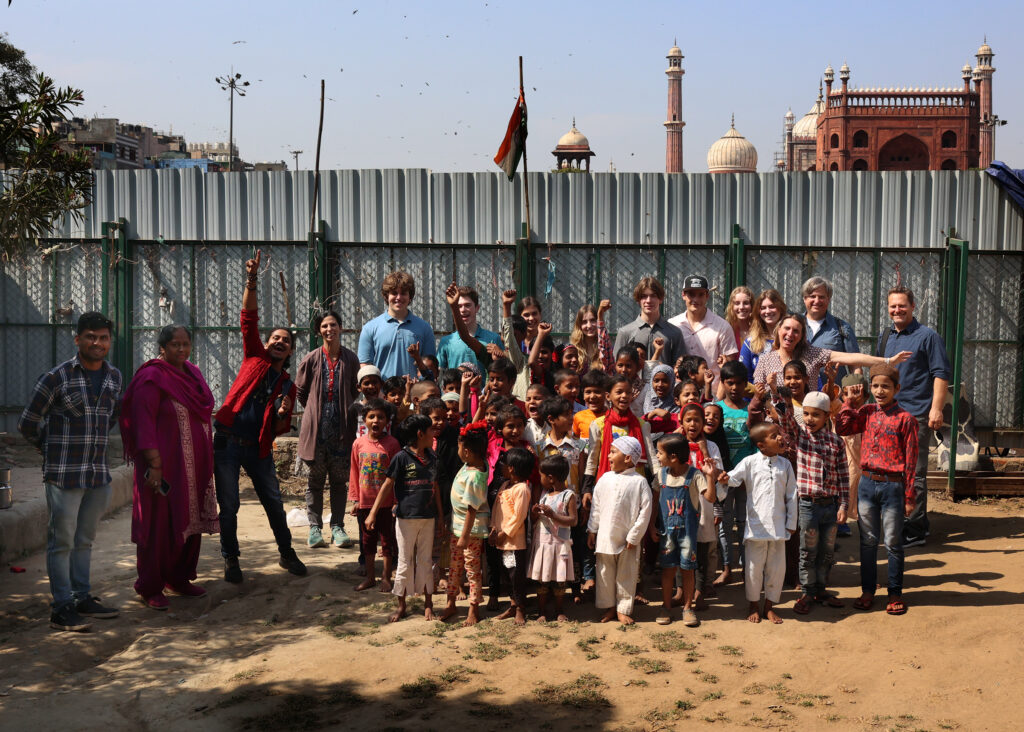 ---
Burning Flowers, Colored Smoke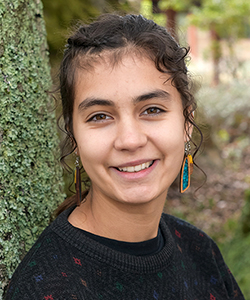 Smoke in my lungs and then a different smoke and then a different smoke. Roti on the tawa, burning milk on the sides of a chai pot, bus exhaust, burning fields, burning flowers. Spicy smoke, sour smoke, cigarette smoke, turmeric smoke, the kind of smoke that seeps into my mask and my clothes.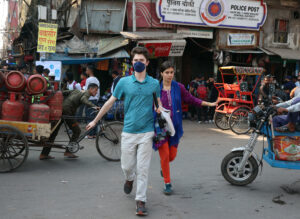 Each alleyway and street that Junaid from the Salaam Baalak Trust led us through hit me in wafts. Even though Old Delhi was filled with all kinds of sensory experiences from hawkers, clothing shops, cabs, and hanging bells, the smells were what reached me first. Every step forward could either have been deliciously exuberant or an indubitably big mistake.
The day was bluer than our previous times in Delhi, but from the very top steps of the Jama Masjid mosque tower, I still smelled a breeze laced with the smog of twelve million people living in just one city. My dark-blue scarf blew off the top of my head as I looked outside at the great expanse of houses below. French tourist perfumes and Indian guide hair products wafted through the translucent fabric.
In the Bazaar near the mosque, I smelled dust and human waste. I smelled degrading garbage mixed with fragrant sweets. The red sandstone around me transported me to a different time, but the scents grounded me to the current, ever-changing moment.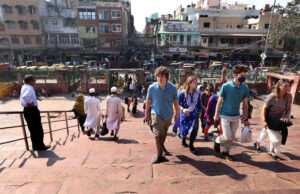 Inside the classroom of the Salaam Balak contact point which lay outside the bazaar, I smelled musty clothing and my own sweat. I smelled the Sri Ram Ashram again, for a brief moment. Yet, this place was different in many ways. Many of the kids led lives I could only ever read about or imagine from a distance. Young children start collecting trash and selling it to make a bit of money in dense urban areas. I walk through the smells of smoke and garbage, but I do not live in it. Junaid told us that some children as young as 9 or 10 start sniffing glue or white-out. These contact points are meant to intervene and offer children on the streets of Delhi access to education, shelter, and food. Much like CORD, the organization works to help these children pick themselves up and nourish their dreams.
I probably smelled of privilege or at least something similar. Or maybe I smelled of ridiculousness due to the fact that I was dressed like a chicken with my bright orange leggings and my non-matching kurta. Whatever it was I smelled like to them, it didn't matter in the moment. We sat and played together in an almost impossibly coincidental way. I asked a few questions in Hindi, and one child counted to me in English. We played hand clapping games and I smelled joy. Our time was simple, like the smell of the scribble-ridden newspaper on the ground. Underneath the joy, however, I sat in moral turmoil, taking in the tile and patched tin roof. I looked at one girl as we said goodbye, knowing I might never see her again. She smelled to me of hope in a city full of contrasts, but who am I to say who she is? I should wonder instead what she thought of me.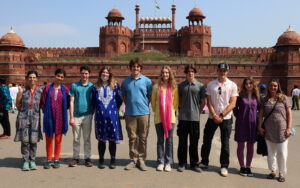 Later still, in the Jain temple and the sari shops of Chandni Chowk, I smelled rose incense, and old wooden fixtures. I smelled peeling paint and ancientness. I smelled muddled water under my shoe and I smelled bursts of color. At the Red Fort I smelled carnival ride grease and swaying trees.
I am not sure how else to convey the feelings that arise for me each time I visit a new place in India. It has gifted me, whether I asked for it or not: the ability to feel the color of each space seeping its way into my senses like smoke.
Smoke from the roti on the tawa, or burning milk on the sides of a chai pot, or bus exhaust, or burning fields, or burning flowers, or burning Tibet, or burning tongue. Colored smoke, spicy smoke, sour smoke, cigarette smoke, turmeric smoke, incense smoke rising up above the bustling cities and sprawling natural landscapes.