Interview with Dr. Martha Kanter
Under Secretary of Education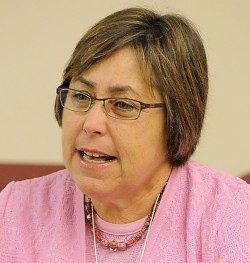 On Sunday a group of us surrounded the glass table in Millie Mailliard's living room, ready to prepare for our upcoming interview with Dr. Martha Kanter, the Under Secretary of Education. Soon after, a heated discussion began about the state of our education system. Many of us in the group have strong feelings about the education system in the U.S. We have taken, or are about to take, standardized tests that will determine our future and many of us have recently made decisions about where we will attend college. This conversation generated many interesting questions for Dr. Kanter and made us greatly anticipate our upcoming interview.
As soon as Dr. Kanter walked in the room and introduced herself we began to ask our questions. One question we asked was, "What do you think constitutes a fully educated person today?" She responded by emphasizing the importance of civic engagement, global competency, and the ability to think critically about the most pressing problems, locally and globally. She said that it is important that our education system instill the values of democracy and highlight the importance of students' contributions to society. This was really interesting to me because I don't think that any of the things that she felt constituted a fully educated person are measured by the SAT.
-Lily Connor
---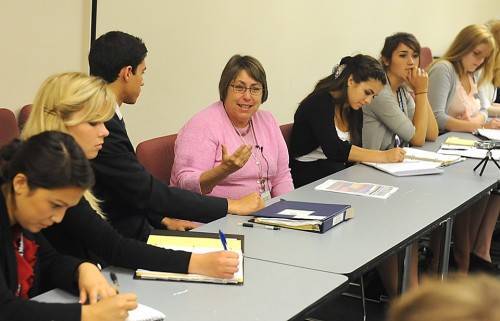 Today started off with an early wake up and a hectic transition to our first interview of the day at the Department of Education. We interviewed Dr. Martha Kanter, the Under Secretary of Education. She began the interview with an introduction that I really liked, she said, "Be ready for anything in your life, and the best thing that you can do is graduate from high school, go to college and get a good job that makes you happy." I agree with this statement because I think a lot of people graduate and go to college and then get a job that doesn't really matter to them. This attitude bothers me because you can generally do whatever you want with enough determination and persistence. I try hard to be persistent in everything I do. I appreciated hearing Dr. Kanter reinforce something that I am already doing.
-Emma Peterson
---
Interview with Erica Barks-Ruggles
Deputy Assistant to the Permanent Representative of the U.S. to the United Nations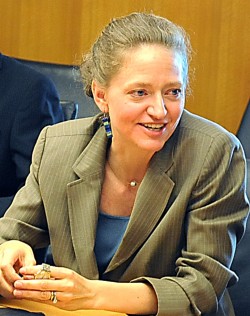 Our second interview today was with Erica Barks-Ruggles, the Deputy Assistant to the Permanent Representative of the U.S. to the United Nations. She had a very powerful presence that instantly commanded my attention. Erica Barks-Ruggles was enthusiastic, eloquent and passionate about the issues she spoke of. She told us about a project in which she helped obtain funds from the U.S. government to provide education for girls in Africa. Eventually through a combination of private and public funds, the project raised $780 million and in turn put 44,000 girls through school. She was pleased to tell us that the project still exists today.
I was also struck when Erica Barks-Ruggles said that being born in the U.S. is like winning the lottery. We have been given so much, yet we take it for granted on a daily basis. She said that since we have been born into such prosperity and opportunity, it is our obligation to give back. The essential question we need to ask ourselves, as a nation, is, "What are we doing to give back?" Erica said, "You can accomplish way more when you give something away." This sentiment reinforced my commitment to the values of volunteer work and community service. I believe that helping others is not only beneficial to those I help, but also to me.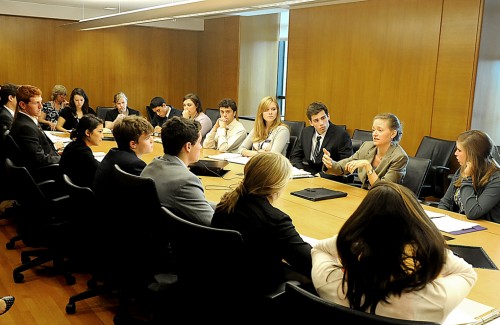 I found this interview to be particularly interesting, engaging and inspiring. I thought Erica's discussion about the importance of giving back connected to Alyse Nelson's idea of leadership. Alyse said that it is important to, "Pay forward the investments made in you." I think that Erica Barks-Ruggles is doing just that. She is doing something positive and constructive on a large scale, and I admire her greatly for it.
-Haley Turner
---
Interview with James Fallows
National Correspondent for the Atlantic Monthly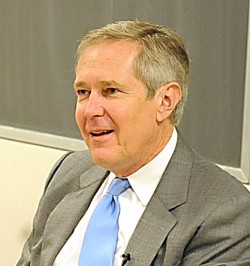 Today we interviewed a man by the name of James Fallows. He is a national correspondent for The Atlantic Monthly. The Atlantic Monthly is a literary and cultural commentary magazine. James Fallows said in his interview with us that his goal as a journalist is to give people a story with a different perspective.
He talked to us about his passions and skills. One of the things that caught my attention was when he said," Try to learn a new skill or gain a new passion every ten years. This will make your life much more interesting." He embodies this attitude toward life. He has been a speechwriter, a journalist, an editor, a program designer, and a private pilot. I think that I was particularly interested in this because I am about to graduate from high school. After that I will enter the work force and I need to find something I am passionate about. He seemed very passionate about his work. In fact, he urged to consider to becoming journalists.
James Fallows responded quickly to our questions. His answers were witty. He is one of the brightest men I have ever met. Anyone would be lucky to turn out as smart and successful as he is.
-Benjamin Mangus
---

After going through persistent efforts to add James Fallows of the Atlantic Monthly to our list of interviews, I was both excited and anxious for the interview. I didn't exactly know what to expect. I anticipated that it would be a memorable interview, and I hoped that the interview would be as interesting to me as his articles.
My prior assumptions about the interview proved to be correct. I found Mr. Fallows to be sharp, strikingly articulate, quick witted, intellectual, and engaging. He was both didactic and direct in his responses. Mr. Fallows has an outlook and perspective that incites curiosity and interest about the process of how he comes to his conclusions. When asked about his general philosophy of writing he said that, "Good journalism shows your work" and that good journalism helps people understand the thought process of the writer. He said the writing is meant to cause some opposition and as a journalist, "You always want to cause controversy of a sort." He said that he doesn't want to tell people what they already know; he wants to make them re-evaluate their notions.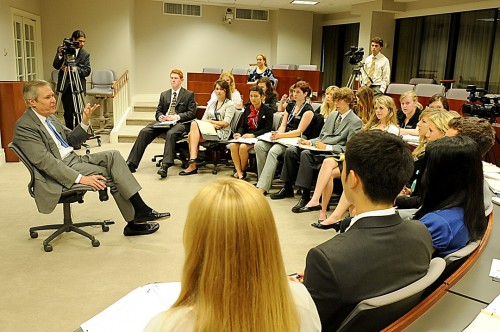 It seems to me that Mr. Fallows does all of this. He has a very thoughtful, stimulating, and straightforward outlook that I strive to emulate. He told us how important he thinks it is to, "See things from the outside" and "continue to re-immerse oneself in different environments." I believe this accounts for much of Mr. Fallows unique and perceptive understanding of the world.
A secondary and more subtle observation I had of Mr. Fallows is that he talks in a similar manner to the way he writes. The poet Derek Walcott said, "It takes all your life to write the way you speak without faking it." I think that this is an accurate description of the talent that Mr. Fallows has acquired. In his discussion with us, I noticed the same wit, fluency, and preciseness that is present in his writing. He took us step by step through his thought process, leading us to a clear and defined point. This process was similar to how one might prove a point in a well thought out and organized piece of writing.
The most noteworthy thing I took away from this interview is the magnitude of having experiences, particularly those apart from one's own system and comfort zone, and how much those experiences can impact a person's life. Immersing oneself in different environments creates an outlook that allows one to make informed decisions about the world, society and the people within it. In Mr. Fallows words, "Life is big and interesting . . . everyone should be interested in everything . . . be adventurous, brave, and interested in life".
-Emma Fladeboe