Congressman Dennis Kucinich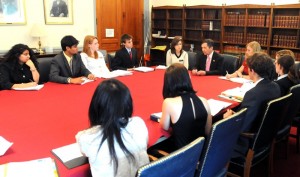 The first time we met Congressman Kucinich was last year when we were still juniors. It was on our way home from the rafting trip when suddenly our teacher Mr. Mailliard received a call. Congressman Kucinich was in Santa Cruz and was inviting us to speak with him. As soon as the vans stopped, we were running to change. We had less than two hours to go home, shower away the river, dress up, and be out the door and on our way to the interview. It was hectic, but well worth it. Today we got to meet him again, but in a much different setting.
One of the defining themes he left with us today was the power of language and truth. He told us that miscommunication was one of the easiest ways to disrespect each other. "Language. Watch what you say. Words start wars." He used the example of Washington DC by saying that it "holds the Olympics for derogatory speech." When we're careless about our language, we spread misunderstandings that lead to distrust and unhealthy relationships. "Tell the truth to yourself. Good citizens exemplify truth." This was an easy concept to grasp because we are at a stage in our lives where we are beginning to form new relationships. Some of us have learned the hard way that a simple lie, even to yourself, can destroy a relationship from the inside out. Lies create an illusion, and relationships collapse under such conditions. Congressman Kucinich emphasized that telling the truth was not only an important value for oneself but an important value for our country. It takes people to tell the truth as they see it, difficult though it can be, for us to be able to improve ourselves and bring peace into our lives. Congressman Kucinich spoke poetically of a single world where war did not belong. To be able to spread peace, we must first find peace within our own hearts; peace begins with truth. "You cannot advocate peace unless you have it in your own heart."
Congressman Kucinich spoke with such sincerity and warmth. He looked directly into your eyes when responding to questions. He had a gravitational pull that drew us in from the beginning to the end of the interview. You could feel the passion that he held for his ideals and for his fellow humans. His drive for truth and passion for peace made him an impressive figure that we all admired. If he runs for president in 2012, he has our vote!
-Rachel Sunberg, Ashleigh England, and Leah Nascimento
---
Ralph Nader
There are many names I've heard throughout my life that I can't put faces to. My parents tend to discuss politics at the dinner table, I often heard the name Ralph Nader come up in their conversations. Today, I was able to put a face to the name.
Ralph Nader sat before us, speaking eloquently as he answered our questions with a calm ease. Then suddenly, he shifted this position and leaned forward, eyebrows raised.
"How many plan on being leaders?"
Five raised their hands
"And how many plan to be followers?"
No one raised their hand.
I thought to myself, " I need to decide which I wanted to be, a leader or a follower."
Ralph Nader is a force to be reckoned with. When we asked why he does what he does, he replied, "I like justice." His statement was plain and simple. But don't begin to think that he is simple-minded. Far from it! In fact, after the interview we were talking with one of the young people on Nader's support teams, and he explained to us that the term "bandwidth is how fast the internet can carry information back and forth and how much information it can carry. He said that Ralph Nader, in computer talk, has the largest bandwidth of anyone that I have ever met." During our hour and a half interview he relayed an incredible amount of knowledge. I was impressed with his ability to look at our country and recognize what was broken and develop solutions to fix it. He asked us, "What do you want knowledge for?" And when there was a silence in the room, he looked straight into our eyes and said, "Use it to make action."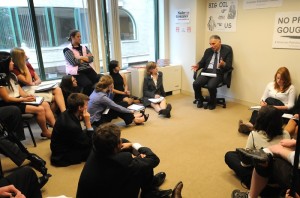 Ralph Nader is not the type of person to talk about what he wants and then let it go, when he has strong feelings about something he takes action to influence change. He said, "You always have to ask what is happening to us. Don't just go with the flow. You must be a contemplative generation." And he is certainly a man who lives by his advice. Did you know that Ralph Nader is the reason that we have mandatory seatbelts and airbags in cars now? Nader fought for environmental issues, child labor laws, and corporate responsibilities; these are issues that affect each and every one of us.
Thanks to Ralph Nader, I now feel equipped to begin my journey towards becoming a leader, one that won't say, "oh well" when something isn't right. I will take Ralph Nader's advice of, "Put a fire in your belly." A burning passion that will drive me to be a citizen who will fight, even if it means being defeated and trampled upon by the majority.
-Bodhi Schaffer and Hannah Meade